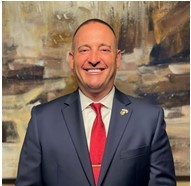 Johnny Rakipi is a highly accomplished business professional, U.S. Marine and combat veteran, with over two decades of experience in the restaurant and real estate industry. Throughout his career, Johnny has focused on the restaurant space, where he has built a reputation for creating exceptional dining experiences and delivering exceptional customer service.

He has owned and operated multiple successful restaurants, and his expertise in the industry has enabled him to develop innovative business strategies that have helped his clients and his own businesses thrive.
In addition to his work in the restaurant industry, Johnny also has extensive experience in real estate investments, tenant representation, retail, buying, leasing and business development. He has a deep understanding of the real estate market and a keen eye for identifying valuable investment opportunities. His expertise in real estate has enabled him to make strategic decisions that have helped his clients achieve their business goals. Johnny is known for his strong work ethic, his attention to detail, and his commitment to providing outstanding service to his clients. He is a respected leader in the real estate and restaurant industries, and his knowledge and experience make him a valuable asset to any organization.